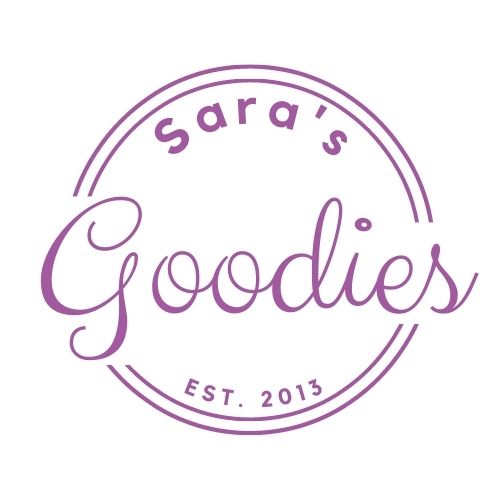 HI, I'M SARA.
I am a baker, a wife, a stepmom, a dog mom, a daughter and so much more! My love for baking began when I was very young, baking Christmas cookies with my mom, using the old recipes that she had learned when she was a child.
In 2013, with encouragement from my husband, Sara's Goodies, LLC was born. Because I was working another full-time job, I enjoyed a small customer base made up of my friends and family and using only word of mouth marketing. In 2019, I decided that I wanted to pursue my baking business full-time and left the corporate world behind. 2020 brought other plans for us all, though.
In 2021 a kind stranger who has now become a good friend opened her commercial kitchen to me, allowing Sara's Goodies to get all the permits needed to sell anywhere, anytime. Today, I'm excited to be growing my business, selling my products to local restaurants and introducing customers at Morgan County (Indiana) Farmers Markets to the best cheesecakes around! Don't worry though, I still look forward to baking Christmas cookies with my mom every winter!
​I can't wait to meet you and create a delicious treat for your next birthday party, gathering or event - or even just a yummy pick-me-up to treat yourself!
SARA'S GOODIES WELCOMES YOU





Bake Shop is open

Wednesday - Saturday 7am - 1pm

at

460 S Main St. Martinsville

(

Inside the Main Connection)-


Order online any time or call, text, email for anything!



At the Bake Shop we offer: Coffees/Tea, Fresh Cheesecake by the slice, and so many other fresh baked yummies! The menu continuously changes so stop in often to try something new!

Offering high quality, fresh cheesecakes, great for any occasion! Custom cakes, tiered wedding/anniversary cakes, birthday cakes, cupcakes. Fresh delicious cake pops in so many flavors you will struggle to decide on just 1.

Sara's Goodies offers fresh desserts for any occasion. Family dinners , business meetings, receptions or fundraising events.

Call, email or text any time!

Sara Weaver Baker/Owner

317-748-5994

Custom HTML/CSS/JAVASCRIPT